Detlev Woermann (1949-2018)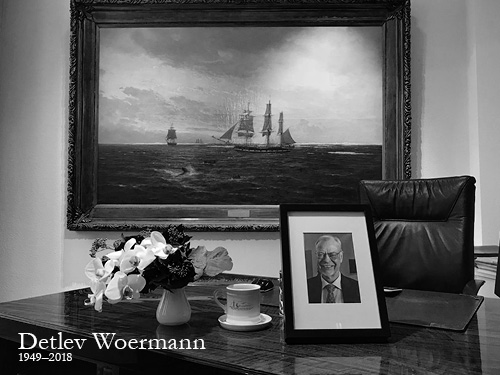 In tiefer Trauer müssen wir von unserem hochverehrten Geschäftsführer und Mitinhaber Abschied nehmen. Er wird eine tiefe Lücke hinterlassen – geschäftlich, persönlich und menschlich.
1975 nach seinem Studium in die Firma eingetreten und dann 4 Jahre in der recht jungen Niederlassung in Nigeria aktiv, wird Detlev Woermann zurück im Afrikahaus 1979 geschäftsführender Gesellschafter neben Volker Kuppe und seinem Vater Heinrich. 
In seinen 43 Jahren im Unternehmen hat die Firma viel Neuland beschritten, auch Untiefen und Stürme gemeistert, Dinge, die ihm als begeistertem Segler nicht fremd waren.
Detlev Woermann war bis zuletzt prägender Teil unseres Unternehmens, in geschäftlicher aber auch persönlicher und menschlicher Hinsicht.
Noch vor drei Wochen war es ihm ein persönliches Anliegen, ein letztes Mal mit seiner Frau nach Nigeria zu reisen, um an den Feierlichkeiten zum 50jährigen Jubiläum teilzunehmen.
Wir werden ihn, seine starke Präsenz, seine Erfahrung, seine Anekdoten, seine herzliche Art und seinen hintergründigen Humor und seine Leidenschaft für Afrika sehr vermissen. Sein Andenken und sein Beispiel werden in uns allen fortleben und Leuchtturm und Leitstern sein.    
---
With heavy hearts we must say goodbye to Detlev Woermann, one of the owners and managing directors of C. Woermann. His absence will be deeply felt, both personally and professionally. 
After finishing his studies, Detlev Woermann joined C. Woermann in 1975 and worked for 4 years in the new Nigerian branch. Upon his return to Hamburg in 1979, he became one of the managing partners along side his father Heinrich and Volker Kuppe. 
In his 43 years with C. Woermann, the company navigated through shallows and storms which, as an enthusiastic sailor, was not foreign to him.
Detlev Woermann remained an integral part of our company until the end and even travelled to Nigeria with his wife three weeks ago to be part of the C. Woermann Nigeria 50thanniversary celebrations.
We will miss him very much, his strong presence, his vast experience, his entertaining anecdotes, his warm nature, his quiet humour and his passion for Africa. His memory will live on in all of us, both as a lighthouse and a guiding star.