Choose Your Preferred Brand
---
AGRICULTURE & FORESTRY
Power Generators
Tyres
AUTOMOTIVE
Transport & Handling
Construction & Workshop
What are you looking for?
Since 1954 we stand for a full range of top-quality technical products and expert knowledge.
With us, you are assured of value for money and reliable after-sales service.
Whether you need tyres, chainsaws, brush cutters, tools, fixing systems, PPE, power generating sets, electrical accessories, handling equipment, welding machines, compressors or automotive parts, we are the preferred partner for your needs.

Our core business:
• Reliable technical equipment for the Ghanaian market
• Renowned and quality controlled genuine products
• Modern Michelin Tyre Centres
• Four locations: Accra, Kumasi, Tema and Tarkwa
• Large warehouse facilities for ex-stock availability
• In-house and on-site technical services
• Mobile team of highly skilled and experienced sales and service personnel covering the entire country
• Product training by our suppliers


Our Core Product Areas

Agriculture & Forestry >
From tractors to chain saws



Power Generators >
Reliable energy



Automotive >
From filters to engine parts



Transport & Handling >
From forklift trucks to outboard engines



Construction & Workshop >
From power tools to welding equipment



Tyres >
Tyres for a broad selection of vehicles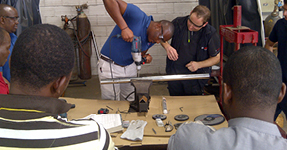 Training
You are offered operator and technical training by our experienced trainers in our company premises and on site. Furthermore, our sales force and technical team are trained regularly by experts from our suppliers in-house and overseas to keep their product knowledge updated at all times.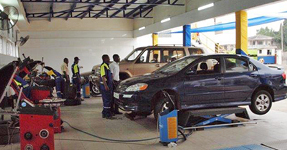 Michelin Tyre Centres
Our state of the art Michelin tyre centres offer quality and reliable services, which are at par with Michelin global standard operating procedures (SOP).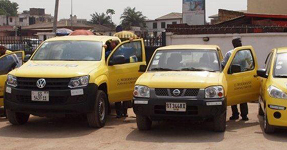 Tyre services on site for fleets
Tyre services, tyre maintenance and performance monitoring through service contracts on site.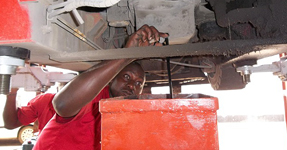 After-sales service support and maintenance
With a fully equipped workshop, our well experienced and qualified technicians are on standby to carry out regular preventive maintenance and repairs of your equipment. Our mobile field service units are on the road to support stationary installations throughout Ghana.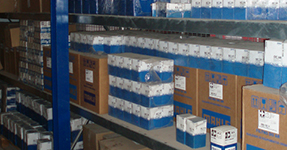 Spare Parts
Wide range of spare parts and consumables available for all product range. Fast track shipments for special requirements can be arranged through our logistics team in Germany.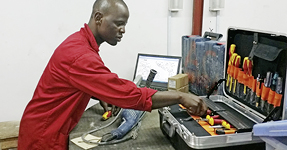 Warranty
All our products lines are covered by the manufacturer's warranty.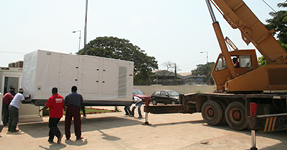 On-site installation
Permanent installations e. g. power generating sets or compressors are carried out by our mobile technical team throughout the country.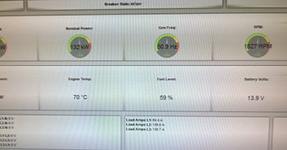 Remote Monitoring and Maintenance of Pramac power generating sets
Never risk loosing you power supply again. Rely on our remote monitoring service for Pramac generators to monitor maintenance intervals, facilitate remote troubleshooting and correct operating parameters online. Access to this monitoring service is also available to our customers as a great tool for e.g. facility and maintenance managers.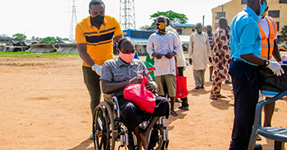 Covid-19: C.Woermann supports local residents in Avenor
The Accra Metropolitan Assembly (AMA) with support from C. Woermann (Ghana) Limited has distributed assorted food items to some 400 residents especially impacted by Covid-19.
> Read on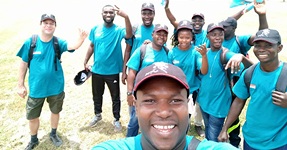 Machinery Department Team Event
In August our machinery department went on a fun team event.
> Read on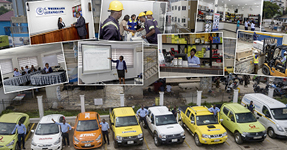 A Closer Look at C.Woermann Ghana
We prepared some new images from our teams and facilities to give you a glimpse at our work and our great team.
> Read on